On his Extranet Evolution blog, my former colleague Paul Wilkinson has faithfully tracked the changing fortunes of the various Software-as-a-Service construction collaboration technology companies since September 2005. There have been ups and downs for almost all the vendors during this time, and – as an independent observer since 2009 – I think Paul has been pretty even-handed in his coverage of how CONJECT has fared since he left the company. However, I don't believe his latest post reflects the changes that have occurred in the market in the past few years, and it is based on publicly available 2012 UK annual report and accounts we submitted to Companies House earlier this summer, which clearly doesn't reflect our progress since last December.
CONJECT group
Two years ago it was appropriate to compare CONJECT Limited, the UK region, to its peers in the UK, because then the business was still technically trading independently from the group. However, a significant shift happened at the start of 2012 when much of the UK's product strategies were adopted across the CONJECT group. Since this point, the UK team has been heavily integrated into group product initiatives and supports our larger European initiatives and customer engagements.
It is therefore now more appropriate to compare CONJECT group to its peers internationally. Since 2012, CONJECT operates as a single group, and is the market leader across in Europe, employing 150 staff. As well as main offices in the UK, and the north (Duisburg) and south (Munich) of Germany it has offices in Austria, the Netherlands, Russia, Poland, Dubai, New Zealand and Singapore. Last year the group generated over €17m turnover and is forecast to grow further this year. The Group will be significantly profitable this calendar year and will continue to invest heavily in R&D.
2013 return to growth
After a period of transition during which, first, many of the group's target economies have been slow to emerge from the deep recession caused by the global financial crisis, and, second, the completion of the integration of the UK business as a region of the group's operations, 2012 marked a turning point. Revenues didn't grow in the UK region in 2012, but our new order intake – a key indicator of future revenues – did, and substantially.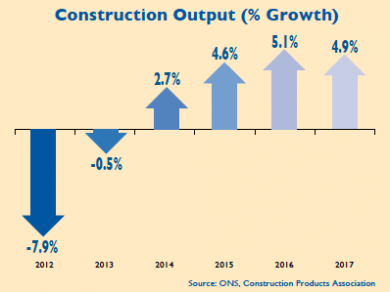 2013 has been a successful year all round for the group. Up to the end of September 2013 revenues in the UK region have grown by 15%, and the region is having another successful order intake year. I am encouraged both by new orders received so far in 2013 and by industry forecasts for growth – I see the Construction Products Association has this week announced revised forecasts that the UK construction sector will grow 19% over the next four years (see TCI news).
More importantly though the group is also growing and is progressing against its plan to increase profitability across the group. Many of the group's markets outside the UK and Germany are also performing above expectations – the Middle East, Asia Pacific and Russia are all delivering growth above 25%.
The 2012 numbers also included some one-off exceptional costs, and with these now accounted for, our prospects for a profitable 2013 are much brighter.
Investing in product
We will also see the benefits of investment in new technologies. Unmentioned by Paul, our annual report highlighted that we introduced several new important product features to our Project Control (conjectPC) set. The most notable in the document management area was a new 'File publisher' tool, while our commercial management solution now supports Earned Value Management (EVM), revised pricing capabilities and integration to scheduling tools such as Primavera P6 and Asta.
A good example of a group initiative where the UK team have been heavily involved is the impending launch of a major new product – the conjectFM SaaS application – across the group. This application will incorporate a COBie data integration to support the transfer of structured as-built data from CONJECT's Project Control (conjectPC) application. We will be capitalising upon the explosion of interest in building information modelling (BIM) as the UK public sector, and progressive clients in the private sector, move towards BIM adoption in 2016 (Stephen Beaven has been blogging about our BIM development alliance, and attended last week's ICE BIM conference). Long term, this will boost all of our regional operations, and, as BIM excites more interest in European and other international markets, the UK is leading the group's product initiatives in this area.
Wins
As highlighted earlier 2013 has once again proven that CONJECT has the strength and capabilities to secure major appointments. In the UK for example we have won appointments to support the Forth Replacement Crossing, Scotland's biggest infrastructure project in a generation, a major transformation programme for the Pirbright Institute, plus a new Metrolink network for Transport for Greater Manchester. In addition, we have been secured new long term enterprise agreements with Eurovia (a Vinci company), and West Sussex County Council, and been appointed to support the Victoria Circle and Elephant & Castle development schemes in London.
In the United Arab Emirates we are helping Hyundai develop the Dubai Eye (like the London Eye, but 30% larger!). In Singapore we have been appointed to help build four brand new hospitals, and in America we have secured a new pipeline programme appointment with Atlanta Gas Corporation.